Inspiration for the first pet treats grew, as so often happens, from a pesky problem. Maggi, my youngest Corgi, needs extra fiber in her diet. I'd been using a dollop or two of pumpkin on each meal for that purpose, and she loved the pumpkin even more than her dog food.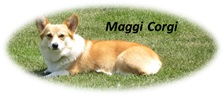 Of course, like any good pet parent interested in avoiding disputes over food, I gave my other dog, Marlo, some pumpkin as well. The problem arose when I'd go on vacation and have to board the girls. It just seemed awkward to ask their care givers to deal with managing the pumpkin and putting it on their meals. Let Maggi go without her pumpkin for several days? Or find a way to deliver it that would be easy to work with? I chose the latter.
Getting Started     Chewy brownies seemed like a good starting place, and there are lots of recipes out there for pumpkin versions. But the problem with all of them is that they start with lots of butter or shortening and sugar  —  neither of which I particularly wanted to add to the dogs' diet. Time for some experimentation. What ingredients would deliver good flavors, a nice texture, and the kinds of nutrients that would be healthy for pets and good for their digestive systems?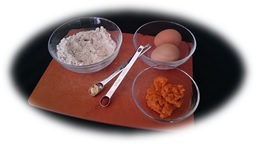 Pumpkin is a viable substitute for fat
Oat flour has a slightly sweet, nutty flavor that complements the pumpkin well
Unsweetened applesauce works as a substitute for sugar
Ginger is just as good for a dog's digestion as it is for a human's
And in small quantities, cinnamon delivers the same health benefits to our furry friends as it does to us
Eggs add some protein and hold all the other stuff together
The first pumpkin bars were  …  well, the girls thought they were edible, but I wasn't really satisfied. After some further refinement of the recipe and deciding to pipe them out as individual cookies, the Flower Cookies were born  …  and were a huge hit with Maggi and Marlo!
Branching Out     By then, I'd become totally intrigued with what might be possible. Time to add some variety. Whole oats gave the brownies a much nicer texture. Butternut squash is much like pumpkin. A friend casually mentioned how much his dog likes spinach and broccoli. Garbanzo flour is another healthy option.  In an Italian restaurant one evening, my dinner partner speculated on whether dogs would like the crispy bread sticks, giving me the idea for Chicken Sticks. My girls like a bite of banana when I have some for lunch. And of course, even healthy, weight-conscious pets are entitled to the occasional indulgence,
so there had to be a peanut butter treat in the lineup.
Proof in the Pudding    Once our in-house tasters have given their personal approval, we test the treats with some of their neighborhood friends. From mixed-breeds to Labs, Australian Shepherds to Spaniels, Dachsunds to Terriers to Labradoodles, the response has been resounding enthusiasm. So now we are pleased to offer Village Pump pet treats to you and your furry companions. Maggi and Marlo hope your pets enjoy these delicious, healthy treats as much as they do. You can feel comfortable adding them to meals or feeding them as snacks, knowing that all the ingredients are something you would happily eat yourself. In fact, give them a taste  …