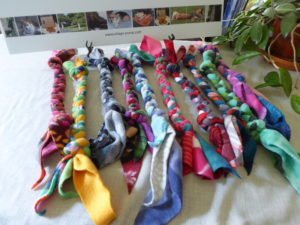 Dogs love our soft toys for all kinds of play. Made from washable, USA-made fleece, they come in a wide variety of sizes, shapes, and colors.
Each toy is handmade, so no two are exactly alike. The color combination for a toy is chosen from our extensive selection of fleece at the time we make it.  When you order, you can select from our numerous color schemes or ask us to surprise you with one of our favorites.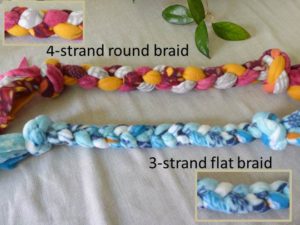 We also offer different lengths and styles of toys to suit your furry friend's personality, size, and play habits.
Three-strand flat braids are like the standard pig-tail braid.  Four-strand braids create a round toy with slightly more substance.  Either style is suitable for all types of play.
Toys come in different lengths as well. Because our toys are hand-crafted, the measurement of any individual toy may vary slightly, but they will always be in this general range.  Round braids are always slightly shorter than flat braids just because of the nature of how the strands are woven together. Here's a comparison of the average lengths of our flat-braid toys:
When choosing a toy length for your furry friends, consider their style of play.  Maggi, our Pembroke Welsh Corgi, is actually quite fond of a long toy, grabbing it in the middle and racing around the yard with the ends flapping beside her.
Our special line for small breed dogs offers toys that are shorter in length and braided with smaller strands of fleece. The small-breed line is available only in the flat-braid style but comes in the same color varieties as all our toys.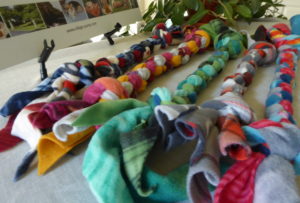 Want something special or have a custom color combination in mind?  Contact us and let us know what you're looking for.  With any luck, we'll be able to come up with something that meets your needs.